By Li Zhen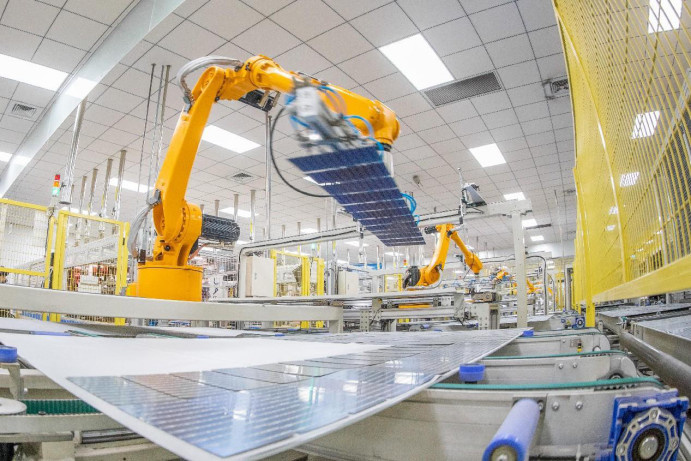 Photovoltaic (PV) panels are produced in a PV tech firm in Yiwu, east China's Zhejiang province, Jan. 22, 2023. (Photo by Wang Songneng/People's Daily Online)
Chinese provinces, autonomous regions, and municipalities recently released their 2023 government work reports as local "two sessions" were convened across the country.

Apart from reporting their performance in the past year, they also unveiled roadmaps for their development in 2023.

Taking high-quality development as the top priority, local governments will focus on stabilizing expectations, boosting confidence and building strength, and will strive to achieve new highs of development.

In their work reports, local governments stressed prioritizing stability while pursuing progress with regard to economic and social development in 2023 and the next five years. The major economic and social development goals they unveiled were inspiring.

According to statistics, 11 provinces and autonomous regions set their GDP growth targets at around 6 percent, and nine proposed to achieve growth of over 6 percent, including Chongqing municipality, Xinjiang Uygur autonomous region, Hainan province, and Tibet autonomous region.

In particular, Tibet autonomous region, Jiangxi province, and Xinjiang Uygur autonomous region said they would strive for growths of around 8 percent, 7 percent, and 7 percent, respectively.

Hainan's target was the highest, reaching 9.5 percent. The province also planned to lift its general public budget revenue by around 15 percent, and fixed-asset investment by 12 percent.

These figures mirror the strong resilience, tremendous potential, and great vitality of the Chinese economy, heralding a pickup in China's economy in the new year.

Local governments demonstrated strong confidence in the development in the next five years. Hubei, Hunan, and Anhui provinces said they would expand their economies to about 7 trillion yuan ($1.02 trillion) in the next five years, while Sichuan has set the number at more than 8 trillion yuan.

Zhejiang province is more ambitious. The province planned to lift its GDP to 12 trillion yuan by 2027, with a per capita GDP of 170,000 yuan and a per capita disposable income of 85,000 yuan.
Many local governments said they would prioritize consumption recovery and expansion this year.

Shanghai will make more efforts to build itself into an international consumption center, vigorously develop "first-launch economy", night economy, and livestream economy, and foster a batch of featured local landmarks.

Shandong province proposed to implement a "consumption vitalization year" campaign to integrate online and offline businesses and forge a batch of e-commerce industrial belts.

Hainan province will strive to improve the number of visiting tourists and tourism revenue by 20 percent and 25 percent, respectively, and strive for offshore duty-free sales to exceed 80 billion yuan.

With regard to expanding effective investment, northwest China's Shaanxi province has arranged 640 major projects at the provincial level this year, with a planned annual investment of 480.4 billion yuan. The province will work to expand fixed-asset investment by around 8 percent.

Liaoning province in the northeast of the country will complete the advanced layout of new infrastructure and accelerate the construction of "double gigabit" network infrastructure and charging facilities.

Qinghai province planned to implement over 800 major railway, airport, road, water conservancy, and energy projects, with a total investment of 1.3 trillion yuan.

Being mentioned about 500 times, "high-quality development" remained a buzzword in the government work reports released by the 31 Chinese provinces, autonomous regions, and municipalities.

Chongqing municipality vowed to expand emerging industries with strategic importance and advance in-depth implementation of the plan on building world-class industrial clusters of intelligent connected vehicles and new energy vehicles.

Jiangxi province rolled out supportive policies for the digital economy, planning to build advanced computing centers to promote digital, network, and intelligent transformation of industries.

Gansu province said it would give more play to its advantages in energy resources this year and build the country's first batches of major wind-photovoltaic hybrid systems.

Opening up is an important force driving economic and social development. Many provinces, autonomous regions, and municipalities take advancing high-level opening up as an important task.

Zhejiang province said it would manage to maintain steady growth in the foreign trade sector and ensure that its exports make up around 14.5 percent of the country's total. Besides, it will enhance efforts to attract business and investment. According to the province, its actual utilization of foreign capital will exceed $20 billion, and foreign investment will account for over 27 percent of the manufacturing sector.

Yunnan province proposed to accelerate 50 major projects along the China-Laos Railway and align the Lancang-Mekong Express service with China-Europe freight trains and the Lancang-Mekong international shipping route. The province planned to send over 10 million passengers and 13 million tons of cargo this year.

Xinjiang Uygur autonomous region said it would better build the core area of the Silk Road Economic Belt and accelerate the construction of a distribution center for returning China-Europe freight trains, a national-level demonstration base of multimodal transport and a national level demonstration base for the processing of imported resources.