Source : People's Daily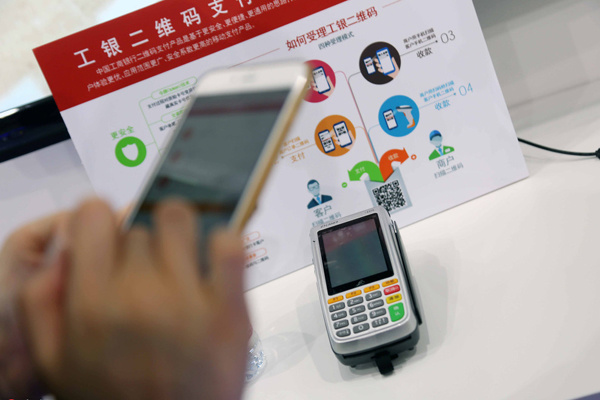 Like other tourists from the Chinese mainland, Mr Zhang had to go to the bank frequently to exchange cash when staying in Taiwan about a year ago.
He recalls he had to carry money and several bank cards at all times during his stay on the island.
Things have changed. Zhang, who is visiting the island again, said he hasn't had to exchange cash so often because he can pay via his mobile phone.
WeChat payment and Alipay, the most popular mobile payment services in the Chinese mainland, have grown rapidly in Taiwan.
WeChat payment and Alipay are increasingly accepted at various stores and supermarkets in Taipei, along with Visa, UnionPay and Line Pay.
At the Sa Sa cosmetics store in the Xinyi district of Taipei, mainland customer Ms Liu paid quickly via WeChat by placing her mobile phone under a scanning machine. The app produced an e-receipt detailing the tagged price in US dollars, her actual spending in yuan, the exchange rate, and time and place of the transaction.
"It's really convenient, since I do not have to exchange money or carry too much cash," she said.
Sa Sa introduced WeChat payment in September. Now about 40 percent of its mainland customers pay by WeChat and the percentage is expected to rise steadily in 2017, according to Peggy Hsu, a Sa Sa marketing manager.
WeChat's payment service, based on the popular instant messaging app WeChat, entered Taiwan in January 2016. Within just a year, it has become accepted in over 30,000 stores across the island, said Fanny Lin, regional director of Tencent's overseas business group.
"The service is available to mainland customers in the landmark Taipei 101 building, the Shin Kong Mitsukoshi department stores, Sun Moon Lake resort and even on some off-shore islands," Lin said.
Around 9,600 convenience stores, including 7-Eleven and Family Mart, have recently introduced WeChat payment.
It is not only an improved shopping experience for mainland customers, but also saves time and costs for Taiwanese stores.
"It's easier to use and faster. More importantly, the convenience will make customers more likely to pay," said Hsu I-yu, a sales staff member for a sports brand in Shin Kong Mitsukoshi, a major department store chain in Taipei.
WeChat now has 846 million users worldwide, up 30 percent year on year, according to Tencent's third-quarter earnings report from 2016. More than 300 million users have registered to use the WeChat payment service.
WeChat payment is available in 11 countries and regions, the WeChat payment team said Friday.
Currently, WeChat's payment service is unavailable to Taiwan residents. Mobile payment services, including WeChat payment, are cooperating with local banks for cross-border payment business certifications.
"Based on the sellers' feedback, WeChat payment has indeed brought real benefits, boosting their sales," said Shen Shun Yi, a senior digital business employee of WeChat payment's Taiwan partner, Hua Nan Bank.
Cooperation with mainland mobile payment services will also help Taiwan banks improve service to medium-sized and small companies and strengthen economic and trade cooperation between the mainland and Taiwan, said Wu Bochen, manager of the digital application department of First Bank, another WeChat payment partner.
By introducing mobile payment services, Taiwan's merchants want to explore new payment methods and establish long-term contact with mainland customers to help their e-commerce business target the mainland market, said Fanny Lin.