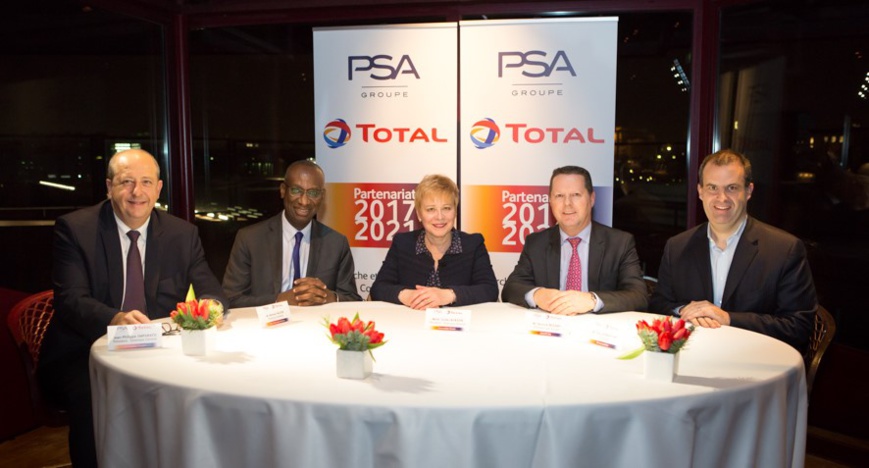 From the left to the right: Jean-Philippe Imparato (CEO Automobiles Peugeot), Momar Nguer (President Marketing and Services) Linda Jackson (CEO Automobiles Citroën), Yannick Bezard (Executive Vice President, Director Purchasing, PSA Group) Yves Bonnefont (CEO DS Automobiles). Photo : Clémentine Béjat (Objectif Images).
PSA Group and Total renew their long-standing partnership. This partnership covers the Peugeot, Citroën and DS marques and four basic areas:

research and development (R&D);
supply of first fill lubricants to PSA Group plants;
an exclusive after-sale-service recommendation in PSA dealerships;
the motor racing partnership with Peugeot Sport, Citroën Racing and DS Performance.
Total automotive lubricants are recommended and available to customers in PSA's networks. Certified auto repair centers have access to the Total Quartz/Activa high-performance engine oils, developed specifically for PSA powertrains to ensure their performance and reliability and improve fuel efficiency.

As part of the renewed partnership, PSA Group and Total are creating joint marketing initiatives to promote their shared customers' satisfaction.

PSA and Total also remain technical and sports partners for the upcoming challenges awaiting Citroën Racing in the WRC, Peugeot Sport in the World RX and rallies, and DS Performance in the Formula E, after winning a number of races and world championship titles in the FIA WTCC, WRC and World RX and the Dakar rally race.

PSA and Total share strong values — team spirit, performance, expertise and quality, innovation and respect for customers —, that help advance their common goal of developing superior products and services that deliver an unmatched customer experience. "We're delighted to renew our long-standing partnership with PSA. We celebrated 20 years of working with Peugeot in 2015 and the introduction of the DS brand and will mark 50 years of partnership with Citroën in 2018. The continued partnership affirms Total's strong commitment to supporting PSA as it pursues its long-term growth and international expansion," said Philippe Charleux, Vice President, Lubricants & Specialties of Total Marketing Services.

"It's a long-standing partnership between two companies that share the same values of sustainable development and safety and that put customers first in their decisions," commented Yannick Bézard, Executive Vice President, Director Purchasing, PSA Group.