By Zhao Zhuqing, People's Daily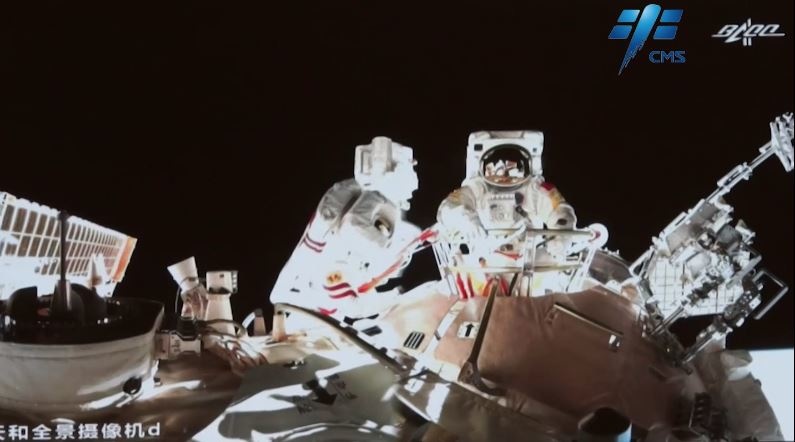 The screenshot shows the Shenzhou-13 crew conducts the first extravehicular activities. (Photo from the website of the China Manned Space)
Taikonauts Zhai Zhigang and Wang Yaping have completed their extravehicular activities (EVAs) and returned to the space station core module Tianhe, the China Manned Space Agency (CMSA) said in the early hours of Monday.

It was the third extravehicular mission conducted during the construction of China's space station and also the first one in Chinese space history involving a female taikonaut.

The pair returned to the core module at 1:16 a.m. (Beijing Time) after 6.5 hours of extravehicular activities.

At 6:51 p.m., Nov. 7, Zhai opened the hatch of Tianhe's node cabin, and the pair, donning China-developed new-generation Feitian spacesuit, were out of the cabin by 8:28 p.m. It was the second time for Zhai to perform EVAs, following his first 13 years ago. Meanwhile, Wang became the first Chinese female astronaut to walk in space, making history for female taikonauts. The third member of the crew Ye Guangfu assisted the EVAs from inside the station.

They performed a series of extravehicular tasks, including installing the dual-arm connector and the suspension device. These tasks have further verified the performance of China's home-developed spacesuit, the ability of the taikonauts to work with the robotic arm, as well as the reliability and safety of the supporting equipment.

Robotic arm specialist Tang Zixin from China Aerospace Science and Technology Corporation (CASC) said the equipment was installed this time for future connection of a big and a small mechanical arms. The two, when combined, can stretch 15 meters to gain wider operation range.

Zhu Guangchen, deputy chief designer of the space station system at the CASC, introduced that the EVAs this time also included attitude control, and the taikonauts' operation was precise.
During the EVAs, Wang recorded the operation of Zhai with a camera on her helmet.

Huang Weifen, chief designer of China's manned space program astronaut system, said the EVAs were performed very well, and China has gained further experience in such operations, laying a solid foundation for future missions.

The crewmembers of Shenzhou-13 spaceship have been working and living in space for over 20 days since they reached the space station on Oct. 16. They carried out a series of routine work, including the transfer of cargos from the cargo craft, management of the space station, unsealing and testing new extravehicular suits, in-space health check-ups, physical exercise, and in-space experiments. Besides, they also conducted training in emergency evacuation, robotic arm control and medical aid.