By Hua Fang from People's Daily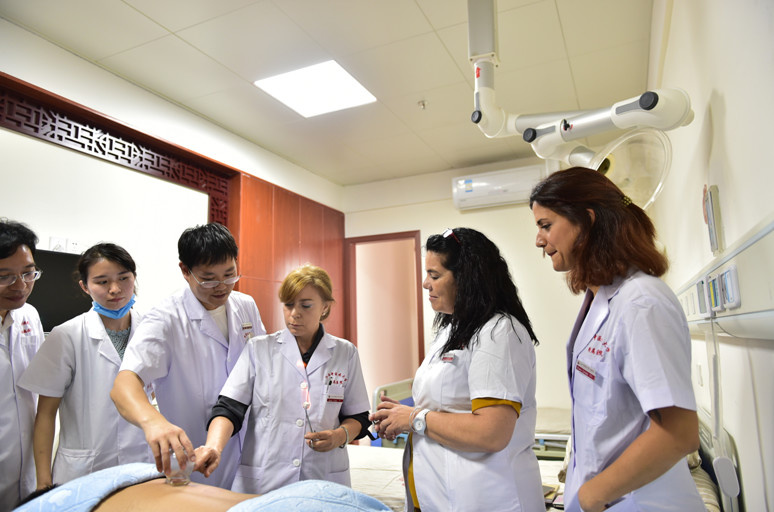 Portuguese trainees learn TCM therapies at the China-Portugal TCM Center at the hospital attached to Jiangxi University of Traditional Chinese Medicine in Nanchang, capital city of east China's Jiangxi province. Opening ceremony of the center was held on May 16, 2017. (Photo from People's Daily Online)
Traditional Chinese medicine (TCM) has gained wider acceptance around the world, Wang Guoqiang, head of the State Administration of Traditional Chinese Medicine, said in an interview on the sidelines of China's ongoing "two sessions", suggesting putting more quality TCM products in global market.

The remarks of Wang, also deputy chief of the National Health and Family Planning Commission, came after a Chinese traditional cough syrup's popularity among Americans in this flu season.

Countries along the Belt and Road have shown a growing interest in TCM since the initiative was put forward in 2013, Wang said, elaborating that consumers of 183 countries and regions have accessed to TCM products, with 86 of them signing agreements with China to promote TCM.

A total of 17 TCM overseas centers have been set up worldwide and a series of standards in the sector have been created, he said, pointing out at the same time that a group of cooperation bases have been established to accelerate TCM's march towards global market as well.

More TCM products have been well received by foreign consumers in recent years, which can be evidenced by award of the Nobel Prize to Chinese pharmaceutical chemist Tu Youyou for discovering the TCM-based anti-malarial drug artemisinin.

Chinese medicine, alongside martial arts, stood out as representatives of Chinese culture after Chinese cuisine in the eyes of foreigners, according to a global survey on China's image co-conducted by a research center under the China Foreign Languages Publishing Administration and other institutes at the beginning of this year.

But Wang admitted at the same time that despite of its popularity, TCM still has a long way to go before truly going global due to cultural differences between the East and West as well as obstacles in terms of the access permission.