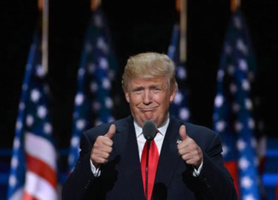 U.S. President-elect Donald Trump continues to challenge the integrity of the U.S. election system, claiming widespread voter fraud cost him the popular vote. Even though there is no evidence to support his claim, it is very unusual for a soon-to-be president to cast so much doubt on American democracy.
The latest totals have Hillary Clinton leading Trump in the popular vote by more than two million, but Trump refuses to accept the results as legitimate. Trump tweeted on Sunday, "I won the popular vote if you deduct the millions of people who voted illegally," referring to the vote recount effort in Wisconsin, Michigan, and Pennsylvania. He did not provide evidence to back up that claim.

Trump's claim appears to have originated with Gregg Phillips, a self-described voter fraud specialist. "Completed analysis of database of 180 million voter registrations," Phillips wrote on Twitter on November 12. "Number of non-citizen votes exceeds 3 million," he added. Two days later, Phillips further bolstered his claim. "We have verified more than three million votes cast by non-citizens," Phillips wrote on November 14.

Radio host Alex Jones' website Infowars reported the claim made by Phillips on November 14. "Report: Three Million Votes in Presidential Election Cast by Illegal Aliens," citing unconfirmed evidence. If true, the report wrote, Trump still won the popular vote. "Virtually all of the votes cast by 3 million illegal immigrants are likely to have been for Hillary Clinton," the report concluded. Jones is considered by many to be a conspiracy theorist. In December 2015, then-Republican presidential candidate Trump was interviewed by Jones on Infowars. "Your reputation is amazing. I will not let you down," Trump told Jones.
The Washington Post examined the claim made by Phillips before it became a statement made by the next U.S. president. The Post found no evidence that millions of people voted illegally in the election and called Trump's claim bogus. Phillips has also refused to provide evidence to back up his claim, but he continues to defend it. "Millions of illegal votes were cast," he wrote in response to Trump's claim on November 27. "We began work on this project in 2009," he added.
Trump has repeatedly challenged the integrity of the U.S. election system. After Mitt Romney lost the presidential election in 2012, Trump wrote on Twitter, "This election is a total sham and a travesty. We are not a democracy!" At the final presidential debate in 2016, Trump refused to say that he would accept the election results. Trump won, but the President-elect continues to attack the integrity the election system of the country that elected him president. Even without evidence of voter fraud, Trump's claims directly undermine America's core credibility.