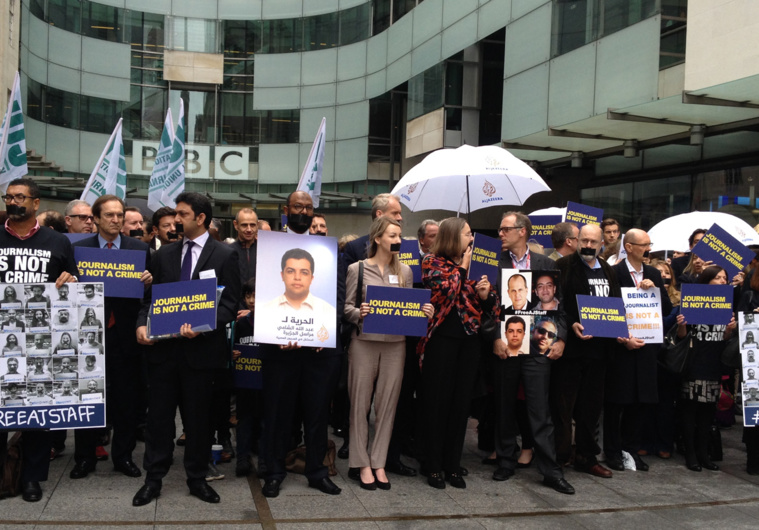 Despite the lack of evidence shown in court in Cairo, the three Al Jazeera English journalists will remain behind bars until the next hearing on 22 April 2014. 
The fifth hearing in the trial was halted after the prosecution screened video which it says supports its case against the Al Jazeera team. But the reports showed Peter Greste reporting in Kenya and extracts of his award-winning BBC documentary on Somalia. The court also saw a report from Sky News Arabia on tourism in Luxor. Defense lawyers argued none of the videos had any connection to the case and called for the journalists to be released. However, the judge refused to drop the charges and announced the next hearing would be on 22 April.
Al Anstey, managing director of Al Jazeera English, said, "Every time the case comes back to court, the world sees just how absurd the allegations against our team really are. Mohammed, Baher, and Peter are first-class journalists. They were just doing their job covering and challenging all sides of the story in Egypt. They should be released immediately. Over 45,000 people have been actively involved in the worldwide campaign for the release of our three, and Al Jazeera Arabic's Abdullah El Shamy, which has resulted in over one billion impressions on social media."
Al Jazeera has also had the support of media organizations worldwide, including the ABC, Associated Press, BBC, CNN, NBC, Sky New, and Reuters, among many other broadcasters and news outlets in all corners of the globe.
Media freedom groups including the Committee to Protect Journalists, the International Press Institute, and the International News Safety Group have shown solidarity in calling for the release of Al Jazeera's staff. Al Jazeera has also had statements of support from the UN, the White House, the British Foreign Office, and the European Union.
Al Jazeera is deeply concerned about the health of El Shamy, who has been on hunger strike for over 80 days. El Shamy is a reporter for Al Jazeera Arabic, and has been held without charge since 14 August 2013. Mohamed, Fahmy, and Greste have been detained since 29 December 2013.