By Zhang Cheng, Xing Xue from People's Daily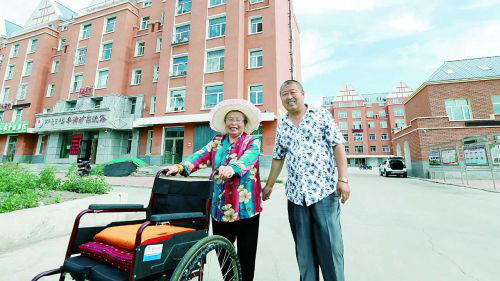 Pang Guilan and her family have moved into a 100-square-meter apartment from a 50-square-meter shabby bungalow in Arxan City of Hinggan League, north China's Inner Mongolia Autonomous Region. (Photo from Xingan Daily)
Thanks to China's intensified efforts to rebuild shanty towns, fifty-year-old Li Yutang and his family do not have to worry any more about icy coldness, even though temperatures have plunged to over ten degrees below zero in Arxan City of Hinggan League, north China's Inner Mongolia Autonomous Region in October.

Before the shanty town renovation project, Li's family of four people lived in a small and old mud house with poor lighting, now they have moved into a new apartment that offers Li enough room to grow flowers and raise fishes.

"I feel very comfortable living here because my house is so spacious and bright, my community is so green and equipped with a variety of fitness facilities," Li said.

Housing is for living in, not for speculation, Xi Jinping emphasized in his report delivered to the 19th National Congress of the Communist Party of China (CPC).

Xi also pledged to move faster to put in place a housing system that ensures supply through multiple sources, provides housing support through multiple channels, and encourages both housing purchases and renting. In doing that, the housing needs of all people will be better satisfied.

Renovating shanty towns is one of the important measures the country has taken to meet the housing needs of all people. In recent years, the Chinese government has stepped up rebuilding efforts, and accelerated renovation of shanty towns and urban villages where about 100 million people are living.

Arxan, for instance, has advanced shanty house renovation by increasing home inventory, including existing houses, under-construction properties and repurchased houses. Since 2014, Arxan has allocated a total of 3.6 billion yuan ($550 million) to relocate 1,857 households.